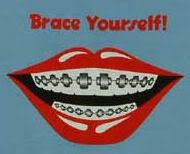 So - I went to the Orthodontist the other day expecting him to tell me I only have on appointment left - which would be in April since that marks the 2 year anniversary of having my braces and he TOLD me it was a 2-year plan..... Yeah.... Right!....
Nope - He has about 4-5 more appointments planned for me.... We are talking August or so...... I guess that is his loss because my payments stop in April :) Of course, he was getting paid outrageously anyway, so even if it stretches out for 6 more months with no payments received, he is still getting paid more than me!
I sent out some quilt squares to my fellow bloggers. You can see them on the quilt page (link on the right).
I have been having a hard time uploading pictures to Blogger so I have had to upload them to photobucket.com and then link to the picture in my post. Has anyone else in blogger-land been having this problem? It is pretty annoying. It is like it just takes forever to upload the picture and then it comes up and says it is to tired, or too busy, or too lazy (or some pathetic excuse) to upload my picture for me at that time..... I really hope this isn't an issue when we get to China! (If we ever get to China)......
Have a good day!!!!!!!!!!!!!!!!!!!!!!!