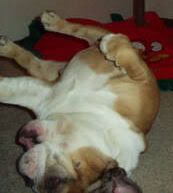 So I took a day off today because I had to take my beloved bulldog (first born child) Ali to the vet. (You might remember my freak of a dog from an earlier post...) Ali has a terrible case of ring worm on her little tum-tum. The vet all but scolded me for being a bad mom and not bringing her in sooner. He gave us medicated shampoo, some pastey crap to put on it and an oral med for it that she has to take for 30 days......poor baby....bad mommy.....
So I get home and I am giving her a bath with her new fancy shampoo (which has to be done every 3 days) and I about throw my stinking back out and figure it is past time for me to call the dr. about it. (especially since we have a dog show with
Abe
this weekend and I am sure I will be helping carry a dog or dog crate at somepoint!) So I called and they got me in at 310. Well, that is when my appt was, I really didn't actually "get in" until after 4:00. She adjusted my back and I felt much better. Well until the pain sunk in from having been adjusted. So I took some ibuprofin and I feel much better today.
Don't you hate it when you get your back adjusted and then a few hours later you twist or turn and you feel it snap back out??? Ugh....
Oh, and the best part....while waiting for almost an hour for the doctor, in the waiting room (I had on my Born in Our Hearts Feb DTC logo t-shirt which I purchased
here
) ....back up...... When I sat down I noticed the lady across from me had an asian boy, about 5 years old, with her. Neat! So then later after she and the boy go back to see the dr., her hubby comes around the corner (had been talking on his cell) and sits down across from me. After about 5 minutes he asks me if we are adopting from China. I say yes....blah blah blah.... Come to find out his son was adopted from Thailand. They have been waiting for the Ukraine for ??? years now and the Ukraine's adoption authority or whatever has no one over them so there are no adoptions coming out of the Ukraine. So they are switching to China. They were at the dr. to get their physical for their dossier! Wow! So I got his business card and we hope to keep in touch.
Whew.....busy day!
I realized that I hadn't yet posted pictures of my secret pal gifts on my blog - I usually post them on the yahoo groups or the DTC Secret Pal Blogs. Here are some pictures of the gifts I got this month. I had to use photobucket because blogger is uploading my pictures but not putting them in my post....annoying!!!!!
January DTC Secret Pal this moth --
Very cute summer tote (notice Mia's new name on the wall above her crib-Thanks Gramma Ann)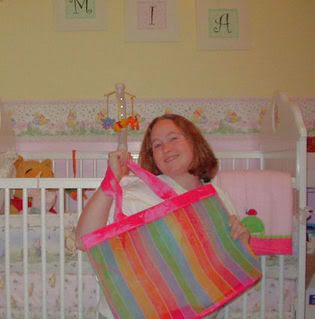 Look what was inside!!!!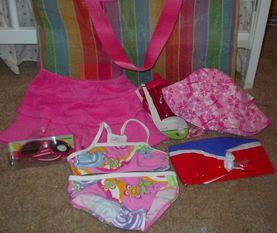 Mia's very first bikini!!! And a beach ball, swimsuit cover-up, pink shades, a very cute sun hat and a pink sippee. We are ready to hit the pool!!!!!
And from my February pal!!! A scrapbook with pages that are already decorated plus some extras to add in. How fun!!! And I LOVE scrapbooking!!! The album is so sweet.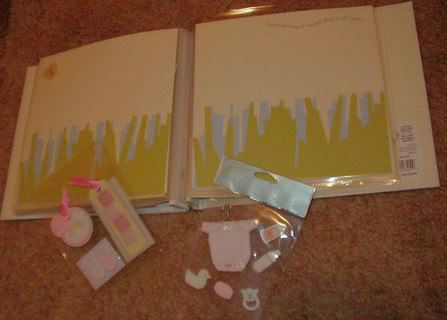 Thank you to both of my WONDERFUL secret pals. They always know just what to send!!!