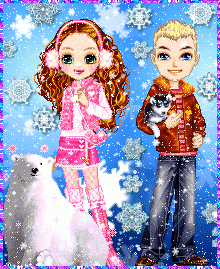 If you have nothing else to do today - I have moved all of the Home at Last links in my sidebar to a new site. The list was getting pretty lengthy and I wanted to shorten my side bar. So all the families who are back home from China can now be found on this site:
http://foreverhomefromchina.blogspot.com
We are sitting at home with ice everywhere outside. I can't believe how much ice we have. How can it rain when it is 20 degrees outside? That amazes me! Brian spent 2 hours today getting all the ice chipped off the cars and the driveway. It's crazy out there! Stay inside!
(This picture is supposed to look like Brian and I......... ha.