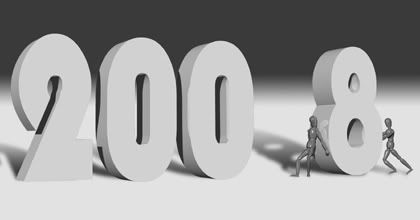 Well it is finally here! 2008. The best year of my life? or the longest year of my life? we'll see! We didn't do much celebrating this New Year's. Brian has been sick. He was sick over Christmas. Coughing and such. Being a baby as most men are when they are sick. I just assumed he had a cold and was being whiney like he always is when he has the slightest bit of an illness. Yesterday he was still coughing pretty bad so I told him to go to the doctor... Lo and behold, he almost had pneumonia!! whoopsie! I guess he really was sick! We did have steaks and shrimp at home for dinner New Year's Eve. That was yummy! I had some wine (craisin' hell! cranberry wine from a winery from my home town... my new favorite!!!). And we watched our neighbor's fireworks! Then went to bed! exciting night I'm tellin' ya!
In other news... I finally finished a quilt completely by myself! It is a small one, but I did everything on it myself. My other quilts I have just sewn the tops and taken them to the quilt shop to be finished. But this one I quilted and did the binding myself! Yahoo! I am so excited about it! Even though the quilting isn't very good. It is pretty lumpy and doesn't lay flat but the binding was really easy and it looks pretty darn good if I do say so myself!!! :) This quilt pattern was not very easy to sew either. This is, by far, the most difficult quilt I have pieced together. So don't look at it too closely! LOL
Happy 2008!!
Back to work tomorrow...ugh!