Better get to shopping! I prefer to wait in the 3 hour long lines the day after Thanksgiving! I know I know...I am totally crazy! But there is an element of fun about it. Bumping into people with your elbows as you walk down the aisle, having people hit you in the heels from behind with their carts. It's GREAT!
We bought our Thanksgiving turkey today.
Yep! Butterball! Yummy! Brian is going to smoke it on the smoker! He's a smokin' pro! (not the cigarette kind!) I can't wait! Mmmmmm. I love Thanksgiving!
Someday we can be thankful that our little Mia is with us. Today I am just thankful that I still have my sanity!
Happy Thanksgiving to all my bloggy friends out there. I know it is next week. but I decided to blog today and I really had nothing else to talk about!
Be sure to turn on your speakers and listen to my favorite Thanksgiving song!
Update:
Didn't even hit me until Lee-Anne posted a comment that not all of my readers are from the US.
Thanksgiving is an American holiday celebrated on the 4th Thursday of November of each year. Back when the
pilgrims
and
indians
roamed our land they had
Thanksgiving
at the end of the havest season to celebrate all they were thankful for. It is typically celebrated by having a turkey dinner with all the fixins (mashed potatoes, stuffing, etc. Each family has their own traditions for what food they make I am sure.). It is a time for the family to get together. There is also a huge "Macy's Thanksgiving Day Parade" (sponsored by Macy's Department store) in New York that is always fun to watch on tv. Santa Claus is always at the end of the parade. The day after Thanksgiving is always the huge shopping day to kick off the Christmas shopping season since most people have Thursday and Friday off for the holiday. All the stores have huge discounts and people flock to the stores to get the best deals. The lines are usually huge! One year I waited in line at Sears for about an hour to check out!
Pilgrims & Indians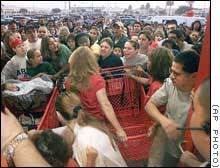 Shopping Frenzy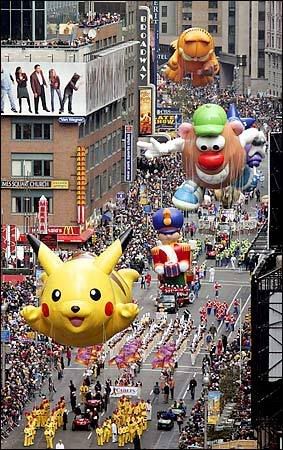 Macy's Parade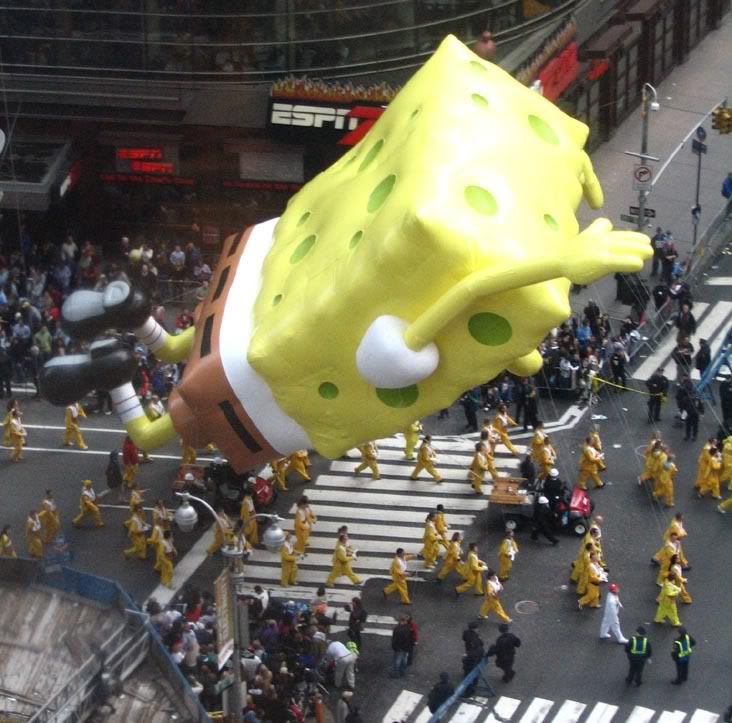 The people holding the strings for the balloons usually dress like the character balloon or they at least all dress the same!